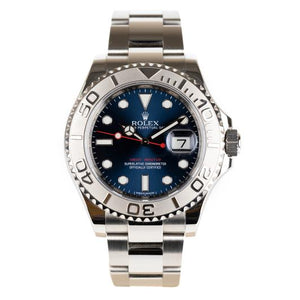 Watch Eric
Rolex Yacht-Master
This men's 40-mm Yacht-Master was released in 2012 to replace the previous, very successful model that had the silver platinum dial and insert on the bezel. Even though the previous Yacht-Master was a beautiful watch, the new blue sunray dial makes this new Rolex really stand out in the luxury watch crowd.
Another big improvement Rolex made on this new Yacht-Master 1 model is on the clasp. The old clasp used a stamped design, but the new clasp puts the watch at a much higher level. Beyond the standard Submariner, this new watch is a bit more "next level."
This is the watch I recommend many of my customers to buy who want something a bit more high-end than the standard Sub. It's a very good choice because the watch, being silver on silver, matches everything. A bad thing about sporting the older Yacht-Master model is that although you might be sporting a nice, relatively new 2009 model on your wrist, many might think that you are wearing the much older 1999 model due to the similarity between the two watches. With the new, blue-dial design, there's no confusion whatsoever. Everyone will know you are wearing a new watch when they see it.
This Rolex Yacht-Master features a 40mm steel case, blue sunburst dial, and is powered by an automatic movement. Call 786-270-8780 for your Yacht-Master or Visit Us at the Seybold Building Suite 224