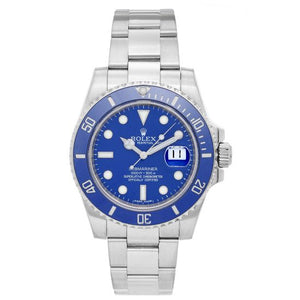 Watch Eric
Rolex Submariner "Smurf" in White Gold
The Rolex Submariner is arguably the best watch every made from the brand. With so many different combinations from gold to steel, there is one that will suit you. The first blue success they had with the two-tone blue submariner. This combination was loved by many. The all-gold was an easy play as well, but it was not until the introduction of the white gold "smurf" that things really took a turn. If Rolex would make a steel variation that would be blue, they would sell every single one of them.
Rolex reserves this color for its precious metal variations. So the question is, Will the Smurf rise up more in price? My guess is yes. This watch was selling for high teens 5-6 years ago and now has a crazy premium of almost $40k. Mostly due to the fact that it has been discontinued. I feel that as things continue on this path, the smurf will be costing more than the yellow gold version. I would say that there are fewer of them around which also helps the collectability. So If you have one, keep it. And if you want one, buy it now!!
Rolex Submariner 18k White Gold Men's Watch - Automatic winding, 31 jewel, sapphire crystal date. 18k white gold case with rotatable blue ceramic bezel (40mm diameter). 
If you are looking to buy or sell a watch, contact me directly at 786-270-8780 or through my Instagram @watch.eric