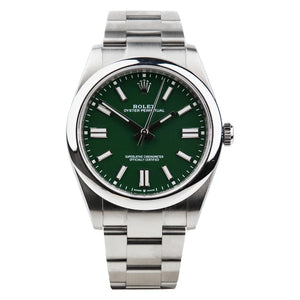 Watch Eric
Rolex Oyster Perpetual
Rolex has finally given us an Oyster Perpetual in 41mm! In-person these watches are a lot nicer than they appeared in pictures. This watch has always been a clean classic that has attracted many entry-level Rolex buyers.
This new 124300 model gives us something that we did not have before, a 41mm case. This changes everything because there have been many times that a person has wanted to buy a new style Rolex at a price point under the DateJust 41 but only had the option of a DateJust 36 or an Oyster Perpetual 39. Those watches are not bad options at all but some buyers have a larger wrist and needed that little extra kick to make them feel right.
This watch is the perfect entry-level watch for men or women (who want a large case). The layout of the dial is very clean and basic and is sure to be in style for many years to come with its traditional look. This watch is going to be a hit with those that like the colorful dial combinations.
The Oyster Perpetual is Rolex's most robust, purpose-driven sports watch.
Call Us at 786-270-8780 for your Green Rolex OP

Rolex dealer, Rolex Miami, Miami watch dealer, watch dealer Miami, Rolex for sale Miami, jewelers in Miami, Rolex Authorized Dealer Miami, Rolex OP, Cheap Rolex