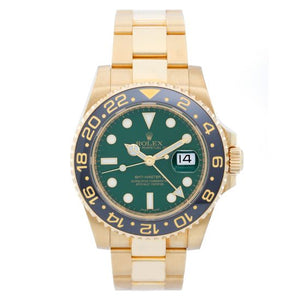 Watch Eric
Rolex GMT-Master II in Yellow Gold
When Rolex released the GMT-Master green "anniversary" dial back in the mid-2000s, not many people knew that today they would be this sought after. The reality is that back then the popularity of watches was not even close to what it is today. I believe that social media has helped breed a whole new generation of collectors. This of course has caused the high demand that we have today.
So what makes this watch so special? Well, it's obviously the green dial. I feel that many watches that end up being the most sought after start off as sort of the oddball piece. It was not until people started to really value how unique these are and truly appreciate the fact that they a "limited" that the demand went up. Followed up by discontinuation and that's all it took for the prices to double. 
See the beauty of this Yellow Gold GMT by Calling 786-270-8780 or Visiting Us at the Seybold Building Suite 224 in Miami, FL.