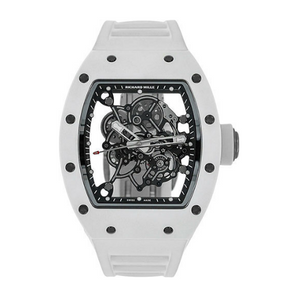 Watch Eric
Richard Mille RM055 Bubba Watson
For latest Richard Mille's including this RM055, Contact Watch Eric at 786-270-8780
The Richard Mille RM 055 was created for the professional golfer Bubba Watson. The first time I saw this watch, I compared it to the Nadal RM35. Both movements are the same and cradled in the middle with shock absorbers, even though both watches do have their differences. Unlike the Nadal, which is lighter and made out of carbon fiber, the RM55 Bubba Watson is made out of ceramic and has a clear case back.
I initially thought that the entire case was ceramic, but only the top plate actually is. This is not weird for Richard Mille to do, since they're known for complicating watches and making them extra sophisticated. The white material on the sides and back is actually titanium wrapped in some sophisticated, high-tech rubber. Even though I'm not a fan of white watches, I do like this Bubba Watson from Richard Mille. The RM 55 is definitely a heavy hitter in the Watch Game.
The RM 055 is a highly technical creation that's innovative, sporty, and hand-finished in the finest watchmaking tradition.
Richard Mille Miami, used Richard Mille Miami, Richard Mille boutique, Aurhotized dealer Richard Mille, Watch stores Miami, Jewelry stores Miami, Watch dealer Miami, Seybold stores