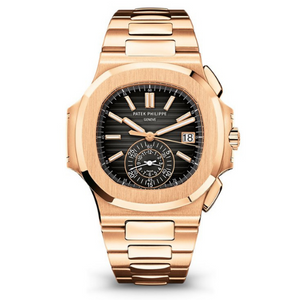 Watch Eric
Patek Philippe Nautilus 5980
The Patek Nautilus has epitomized the elegant sports watch since 1976. Contact Watch Eric at 786-270-8780 for yours.

This is watch is the full package. It has style and class, size, and function. And status? Well, we already know that the Nautilus has had that for quite some time now. It seems to be that all you hear today in the Watch Game is Nautilus Nautilus Nautilus. Although they have become very popular in the last 3-4 years, the Nautilus has always been a top contender. I would say that the 5980 chronograph is possibly my favorite model from this line. You get the complete package.
The 5980 has the perfect size compared to the other models. It's slightly thinner than the 5990 but almost double in thickness compared to the 5712 and the 5711. I feel that overall it has a perfect size. Once upon a time, I wanted them to make a bigger Nautilus and they blessed us with the 40th anniversary 5976. After wearing it for a while I noticed that it simply is too big. Almost a bit obnoxious. That's when I really began to realize how perfect the Nautilus is. It's safe to say that the Patek 5980 is a heavy hitter in the Watch Game.
Patek 5980, Patek Philippe Miami, Patek Miami for sale, Philippe Patek, Patek Authorized Dealer Miami, 5980 for Sale, Nautilus for sale Miami, Patek Nautilus, Nautilus 5980 Miami, Miami watch store, Miami Jewelers, Eric CRM Jewelers, used Patek Miami, Watch dealer Miami