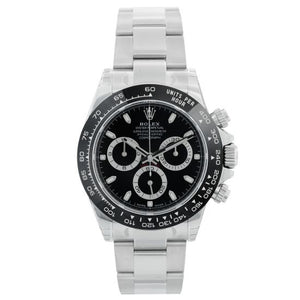 Watch Eric
Rolex Daytona Ceramic Black Dial
While the white dial Daytona may offer more attention from a distance, the black has a lot of flash to it upon closer inspection. The black dial features stainless steel rings around the sub-dials. They have the same finishing as the outer links of the bracelet. The grooves of the chapter rings catch a lot of light, which surprisingly adds a lot of bling factor to the watch. It also gives the design of the watch a nice consistent flow. That said, the black is less consistent with its "flash". It really depends on the lighting condition. 
Most think of the black dial Rolex Daytona as the more classic style. It has a stealthier, more subtle look. Good for people who play it safe with their style. It's not as "in your face" as the white dial. This may make it better for a suit.
Overall, the black dial with the new Cerachrom black bezel looks really stunning. It's definitely a different kind of look than the black dials of the past. It also makes the tachymeter bezel super legible. In fact, we'd say more so than the white dial Daytona. 
What's more, and something important to note is that the black dial Daytona appears a bit larger as the dial spills over into the bezel. It really does give the watch a larger look. So, if you have an affinity towards large watches, the black dial Daytona will appear larger on the wrist than the white dial. 
Both the black dial and white dial Daytona are super contemporary. The designs are modern, sleek, and eye-catching, yet somehow neither feel overwhelming nor imposing in any way. 
This chronograph was designed to be the ultimate timing tool for endurance racing drivers. Contact Watch Eric at 786-270-8780 for used Rolex watches for sale & new Rolex watches for sale. 
rolex daytona ceramic black, rolex daytona panda for sale, daytona for sale miami, used daytona miami, used rolex watches, used mens watches, mens watches, cuban link, custom chains miami, cuban chains miami, custom cuban chains, luxury watches miami, jewelry store miami, seybold watch stores, seybold jewelry stores, new rolex watches for sale, rolex authorized dealer miami