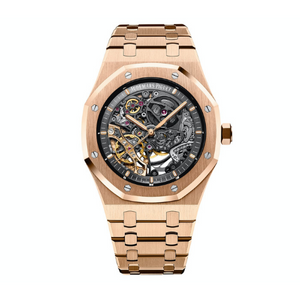 Watch Eric
Audemars Piguet Openworked
In 2016, AP unveiled the Royal Oak Double Balance Wheel Openworked 41mm, offered in a choice of steel or 18-carat pink gold. This model incorporated a new movement, the Calibre 3132. Although this movement was based on the venerable Calibre 3120, it represented a new chapter in the company's history and a huge leap forward in the world of Haute Horlogerie.
This new Royal Oak takes things one step further and in fact features not only two balance springs but two entire balance wheels. As you can see above, they are set against each other and should not only provide much greater mass but also work against each other to self-regulate. Very cool.
Some people think that this watch is a tourbillon, but the reality is that you will not find an AP tourbillon for $80k – not possible! Nevertheless, the 41mm Audemars Piguet Openworked, with its golden bridge holding the escapement wheels is still a heavy-hitting piece in the Watch Game!
The Audemars Piguet Royal Oak Openworked Double Balance Wheel is 41mm, features a 45-hour power reserve. It is available in both rose gold and stainless steel. Contact Watch Eric at 786-270-8780 or Visit Us at the Seybold Building, Suite 224.

Audemars Piguet Miami, Audemars miami watch, Miami watches, Miami watch, Audemars piguet Miami, ap watches, ap watches Miami, mens watches, audemar Miami, audemars piguet dealer, AP watches Miami