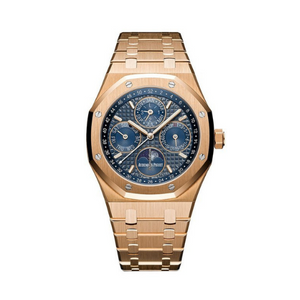 Watch Eric
Audemars Piguet Perpetual Calendar Rose Gold
The Royal Oak Perpetual Calendar combines Rose Gold with the most classic complication in all of watchmaking. Call 786-270-8780 for availability
How can you possibly go wrong with this 41mm in Rose gold with a Blue dial! The complications for this watch are as follows: It shows the day, date, month, leap year, the month of the year, and the moon phase. It seems to be very laid out and it's a lot to have in one package. Although it is not ultra-slim, it seems to fit all very compact in a nice size case.
The blue color on this dial is perfect compared to previous blue dials that Audemars Piguet has previously done that look rather dark. This one looks great in the sun and just pops. The moon phase dial on this watch is probably my favorite feature. The moon has plenty of detail and the sky has a nice sparkle to it. I love it. With this model, they did a great job with the case back. It displays a very nice rotor and the movement looks like an obvious upgrade from the standard AP Royal Oak Self Winding. A cool thing to know is that if you set all the functions on this watch and you were to be able to keep it running long enough, it will keep track of the time and complications up to the year 2100.
The retail for this watch is $95,700 and you can pick one up preowned from around $85,000-$90,000. Overall that is a lot of bang for your buck. It is a lot of watch for under $100k. This is a heavy hitter. There are not many around and it has more of a complication than the skeleton. So who is this watch for? It's for the person that wants to buy a serious watch with a complication and stay under the $100k threshold. More of a connoisseur's watch. 
AP watches Miami, Audemars Piguet Miami, Audemar Miami, Men's Watches Miami, Rose Gold AP watch, Audemars Patek, Royal Oak for Sale, Royal Oak Miami, Miami Watch Dealer, Luxury Watches Miami, Used Rolex Miami, Used AP watches, Miami Jeweler Near Me