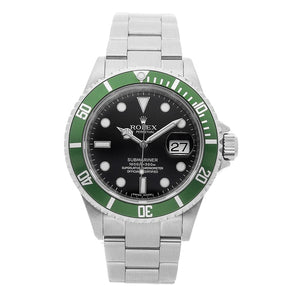 Watch Eric
Rolex Submariner "Kermit"
The main feature of the Kermit Rolex Submariner is the vividly eye-catching green bezel. For the 50th Anniversary of the Submariner, Rolex decided to use their signature color green for the bezel of this commerative watch. This unique and distinctive feature is what earned it the nickname "Kermit".
Rolex has been employing the color green in advertising and its logo since the mid-20th century. Green is deeply rooted in the Rolex tradition, so the Rolex Green Submariner Anniversary watch makes sense.
Although no one can truly state the reason for Rolex favoring the color green, it is thought to be because the color resembles, and is associated with, money, fortune, affluence, and many prestigious and luxurious things, for instance, a Masters winner's jacket. So when Rolex released the 50th Anniversary Edition Rolex Submariner, it was the collector community that bestowed it with the name Kermit.
One of the special features of this watch was that it was the first diving watch that could handle high pressures and stay waterproof past a depth of 330 feet. Also, due to the rotating bezel, divers are able to stay prudent and keep track of time while underwater. 
The Rolex Kermit is absolutely collectible. For a watch that has not even reached its 20th birthday, the Rolex Kermit has significantly appreciated in value. We see only continuing to trend upwards. This makes the Rolex Kermit a smart investment, even this late into its life
Better known as the "Kermit", this Rolex Sub features a steel Oyster case. Call Watch Eric at 786-270-8780 or Visit Us at the Seybold Building in Miami, Suite 224.
men's watches Miami, women's watches Rolex, Rolex watch for sale, used Rolex Miami, new Rolexes for sale, watch dealer Miami, luxury watches Miami, buy men's watch, buy ladies watch, buy women watch, women's Rolex, Datejust, day-date, presidential, submariner, Kermit watch Miami, Rolex Kermit, Submariner for sale Miami, jewelry stores downtown Miami, Miami watch dealers, Rolex store Miami, Rolex authorized dealer Miami