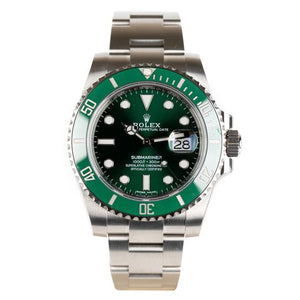 Watch Eric
Rolex Submariner "Hulk"
Rolex Submariner 116610LV "Hulk"
The Hulk is a watch that 5-6 years ago was not an easy seller. I would say that I would sell several regular subs in the time that it would take to sell one green sub. Most of the time guys would come in to see it in person and their girlfriends or wives would say that they do not like it. They simply would say that they don't like the way that the green looks.
Most of the time I would take it out of the display and try it on and that would change their opinion. I would say that back then the Batman was a hotter watch in the market. Perhaps the green was a bit too much? Fast forward to today and the green is what makes this watch stand out. Prices for this watch are going crazy. Retail price is $9,350 and it's one of those watches that if you are lucky, you may get one at retail. Current market prices are $17,000 and up, almost double retail price.
I like the green on this watch because it stands out and shows that its not an ordinary Submariner. One of the benefits that I enjoy on the Rolex Submariners over the GMT is the Glidelock Clasp. Another major factor is that it may be discontinued at any moment. We have been hearing rumors of this for the past 2 years and I feel that any day it will happen, further driving the prices up.
The much sought after green Rolex Submariner Hulk. It features a 40mm steel case with a green ceramic bezel, green dial and it is powered by an automatic movement.
Watch Eric is a luxury watch store and watch dealer in Miami specializing in Rolex, Patek, AP, Richard Mille, and more. We ship. Call 786-270-8780 for best prices on Subs