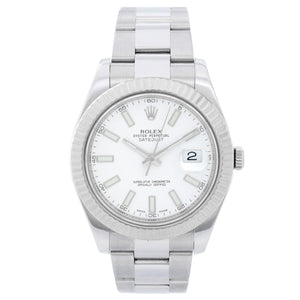 Watch Eric
Rolex Datejust II
The most economical version of the Datejusts is obviously the stainless steel version with the smooth bezel. However, I always recommend that clients opt for the more stylish fluted version. It gives the watch an overall more luxurious look. Unlike sports watch Rolex models like the Submariner, the Datejust models do not come with a superior triple crown seal. This means that even though they are water-resistant, you need to be careful and make sure that their crowns are fully closed at all times whenever you go into the water in order to avoid water damage. For those watch fans who want to jazz up their Rolexes a bit, the Datejust provides plenty of versatility. One thing you can do is add a diamond bezel to the watch to give it that extra punch. A diamond bezel will make the Datejust a bit more feminine, but if caution is exercised, even a men's Datejust can be customized to look good with diamonds. My recommended size for a diamond bezel on a Datejust is about 2.5 carats for men.
As far as the Watch Game goes, the Datejust II is a good economical introduction to the Rolex brand. They are great watches to wear every day to work and flex some muscle, without making a big dent in your bank account.
Rolex Datejust II 41mm Stainless Steel Watch Silver Stick Dial 116334 - Automatic winding, 31 jewels, Quickset, sapphire crystal. Stainless steel case with 18k white gold fluted bezel (41mm diameter). White dial stick markers. Stainless steel Oyster bracelet with flip-lock clasp.