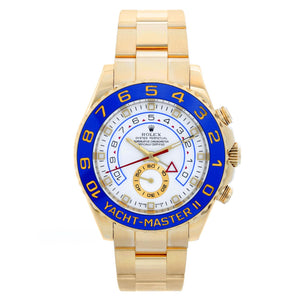 Watch Eric
Rolex Yacht-Master II
The Rolex Yacht-Master II is the dominant sports watch model from the Rolex brand. The Yachtmaster 2 was released by Rolex in 2010. The watch was equipped with Rolex's new 4161 movement and featured Rolex's Ring Command bezel for the first time, which is the main component behind the countdown timer functionality of the model.
At 44mm, the Yacht-Master II is tied with the Deepsea as the largest watch of the Rolex brand. Unfortunately, the Deepsea tends to be a lot taller than the Yacht-Master 2, making it look different on a man's wrist. The YM2 also features an Oyster bracelet with an Oysterlock clasp. Many people mistake the Rolex Yacht-Master II for a chronograph, but it isn't. It simply has a 10-minute countdown timer that is popular in regatta races.
The Rolex Yacht-Master 2 is available in yellow gold, two-tone, and stainless steel. As far as the Watch Game is concerned, the Yacht-Master II is the perfect watch to take out on a boat or beach event; that is if you want to make heads turn. It's definitely a serious piece! For me, the size of the watch, the white dial-blue bezel combination, and its overall balanced look make it the perfect sports model and definitely one that belongs in the arsenal of any serious watch collector.
The only chronograph in the world with a mechanical memory.
Call Us at 786-270-8780 for your Yellow Gold Yacht-Master II