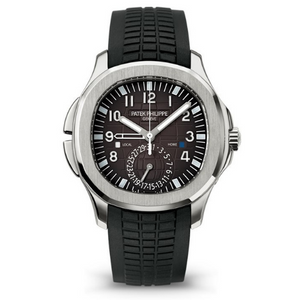 Watch Eric
Patek Philippe Aquanaut 5164A-001
Call 786-270-8780 for Patek watches in stock.
In the last year or so we have seen dramatic increases in the prices of most Patek Philippe sports models. These models mostly include the Nautilus and also the Aquanaut. The fact that these watches are going for so much is a bit difficult to process.
When these current prices reflect on the 5164 Travel Time, you are pretty much paying an extra for these buttons on the side of the case and a dual time zone feature. Is it really worth it? Although it may seem like a large increase, for me it just makes the watch so much more interesting and valuable.
Another good point is that since they are selling with ease, then the answer is yes. The overall look of this watch changes from its little brother counterpart. This model has a much more complicated-looking dial with a second timezone hand that is skeletonized and circle date register at the 6 o'clock position. The side of the case has two buttons that are to actuate the second timezone and give the watch a bit more case size, .8mm to be exact.
Like most Aquanauts, it comes with a rubber strap that has a flawless fit and what may be the best-looking clasp in the watch game. The Patek Philippe 5164 for me is a winner. I would go ahead and say that all Patek Aquanauts are great watches!
Patek Philippe Miami, used Patek Philippe, Patek watches, Patek 5980 Miami, used 5980 for sale, Patek Authorized Dealer Miami, Luxury watches, Most expensive watch for sale in Miami, Philippe Patek, Patek store Miami, Jeweler in Miami, Watch stores Miami, Patek Aquanaut